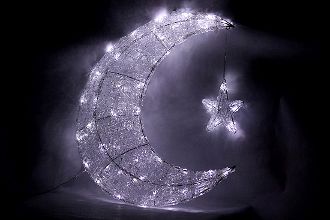 Al Noor Hanging Light
Sold out!
Large Acrylic Crescent Moon with hanging star. One of our most popular Eid Decorations. Great for placing in a window or on a wall, or on a wreath stand anywhere in the home. A very brilliant and beautiful addition for the holiday season.
Clear Acrylic overlay with Bright White LED Lights provides a magnificent glow at night. 24" length 21" width.
Reviews